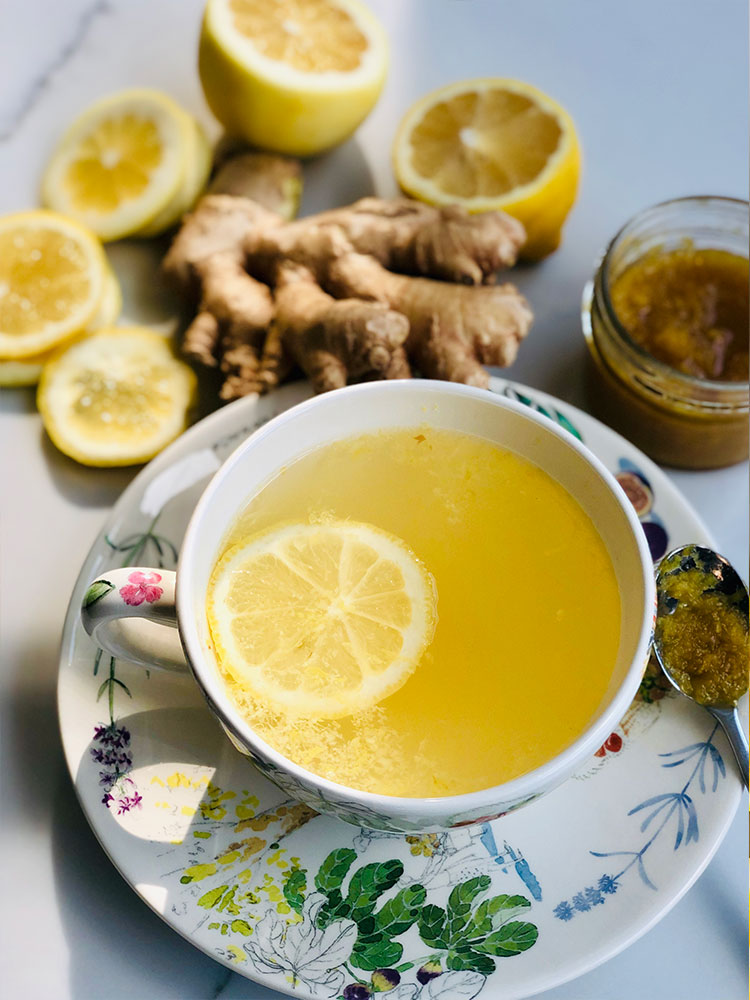 With just three ingredients, and 5 minutes, you have a potent immune paste that can be added to warm/hot water, fresh juice or smoothies, for a fiery boost to your immune system. 
Why are these three ingredients so powerful?
Don't throw away your lemon peels…they contain as much as 5 to 10 times more vitamins than the lemon juice itself. To name a few: vitamin C, vitamin A, beta carotene, folate, calcium, magnesium, and potassium. The peel is also rich in flavonoids and powerful antioxidant compounds that help our bodies battle disease and degeneration.
The therapeutic uses of ginger have been documented for thousands of years in traditional Indian Ayurvedic and Chinese medicine.  It's anti-bacterial, anti-viral and anti-inflammatory properties, along with its ability to ease digestion make this zesty rhizome a wellness staple. Ginger is known for its characteristic "heat" which lends itself to fall and winter cooking.
Honey is the combining element in this immune blend. Raw honey is pure, unfiltered and unpasteurized. Unlike pasteurized honey, it is not heated or filtered, therefore maintaining the natural enzymes, vitamins and minerals that give this bee nectar its amazing healing properties. 
Ingredients
2 heaping tablespoons grated fresh ginger root
fine zest of 1 large organic lemon (I like using a microplane grater for zesting)
3 Tablespoons raw local honey
Instructions
mix ginger and lemon zest in a small glass jar or container. Add honey and mix well to combine. cover and store in the refrigerator for up to 10 days. 
Add a teaspoon to your drink of choice. If using hot water, let it cool a bit from boiling before adding the blend. This ensures that the heat doesn't deactivate the enzymes and other delicate nutrients in the honey and lemon zest.