Granola bars are marketed as a healthy snack, but if you take a peek at the nutrition label of most store-bought bars, you will find that they have almost as much sugar as a candy bar, and very little balance in the way of nutrients. Generally, oats are the main ingredient, followed by various forms of refined sugars. This is disappointing, because a tasty snack bar is really the perfect vehicle for all kinds of super nutrients. I always figured making my own would be daunting and time consuming, but it was surprisingly easy and fun!
These high energy bars are loaded with healthy fats, protein and fiber, making them a truly nutritious snack for any time of day. They are chewy and crunchy at the same time, and have a slight sweet/salty flavor. Each ingredient is whole and unrefined, and packed with vitamins, minerals and numerous powerful plant nutrients that support our bodies. These bar disappear quickly in my home, so I like to make a double batch, and store in the fridge to grab on the go. I suggest you do too!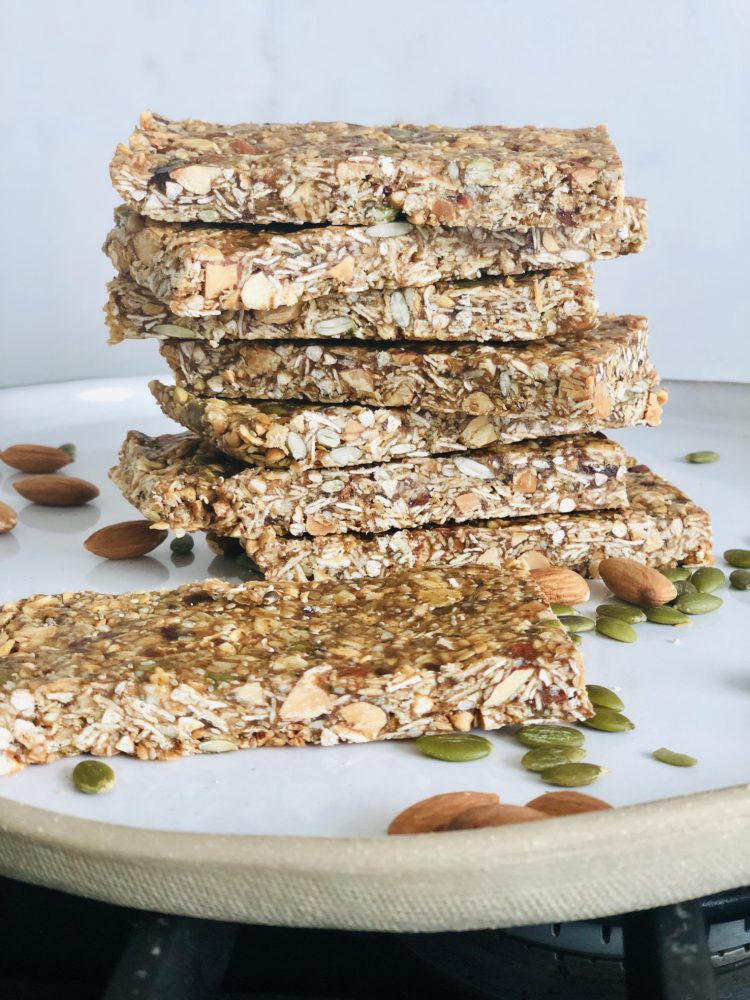 You can find all the ingredients in your local market, health food store, or online. Use them in baking recipes, and as nutritious toppings for oatmeal or cold cereal. Once you make the recipe as written, try playing around with different nuts or seeds to your liking (or depending on what you have in the pantry).  Sometimes I add dried tart cherries, cranberries, or freeze dried raspberries. You can't go wrong. 

These are gluten-free if you use GF oats, and you can omit the nuts and substitute sun butter (for the almond butter) to make them a nut-free, school safe snack.