It's 4pm on a Thursday night and I've run out of planned dinners.
I have a choice, either get creative, or bundle up and brave the cold for a trip to the market.
The idea is to use items in the fridge and pantry, to come up with something satisfying.  Eggs and dried pasta are a staple in our home, so I often end up creating some version of a baked frittata, or a bean and veggie pasta.  I'll incorporate leftovers from a previous meal (even a 1/2 cup of cooked beans, rice, or broccoli from Monday night's dinner can become the muse for tonight's). There are a variety of grains, beans, and rice on hand in my pantry, and I've noticed the container of *bulgur (see note below) staring out at me, the last several times I've reached in to grab something.
Bulgur and a box of grape tomatoes were the inspiration for this mashup of Greek salad and Tabbouleh; two of my favorite meals!
While traditional Tabbouleh typically includes mint, I focused on what was at hand; parsley and cilantro (which are two fresh herbs that I buy at the beginning of each week).  Don't be afraid of substituting whatever herbs that you have available to you, when following a recipe.  Just chop and taste, and see if the flavors are appealing.
With an abundance of crispy vegetables and some whole grain, this salad is a perfect mix of high fiber carbs, protein and fat.  Even better, the soaking liquid for the bulgur, becomes a light and zesty dressing.
Top with chopped grilled chicken or warm chickpeas for a heartier dish.
The key to this salad (as with all salads), is to use the freshest ingredients available. Aged sheep's milk feta, ripe tomatoes, firm cucumbers, and marinated greek olives provide bold flavors and textures.
All you need is a cutting board, knife and a glass bowl to make this impressive dish.
Easy prep, minimal cleanup.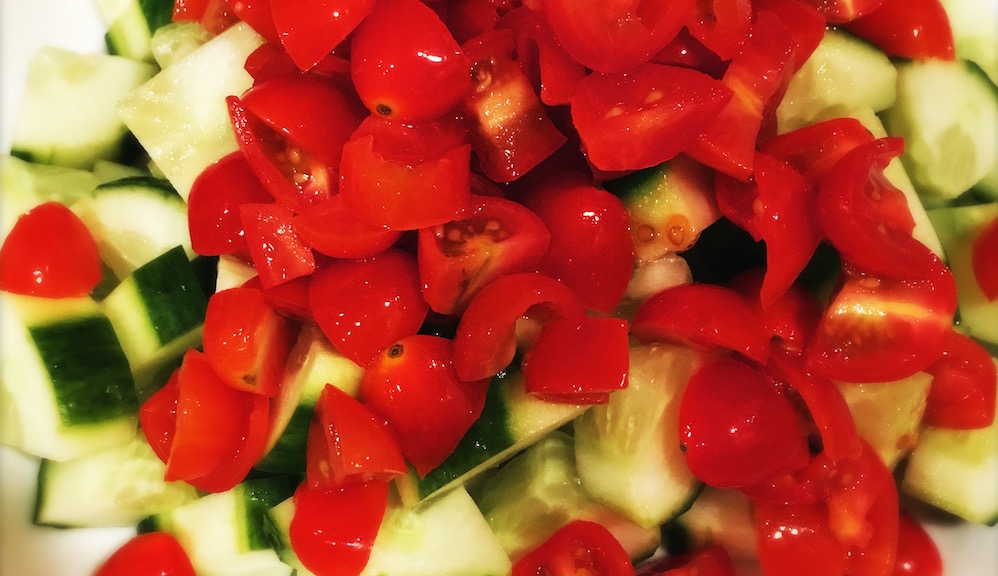 Recipe
Greek Salad with Tabbouleh
serves 6-8 as a generous side, or 4-5 as a main dish.
Ingredients:
3/4 cup bulgur wheat
3 Tbsp fresh lemon juice
1/2 teaspoon kosher salt
1 cup boiling water
1/4 cup good quality extra virgin olive oil
1 pint grape tomatoes, halved
5 Persian cucumbers, chopped
1/4 cup chopped pitted greek olives
4 ounces diced sheep/goat milk feta cheese
2 Tbsp chopped cilantro
2 Tbsp chopped parsley
Directions:
Place bulgur in in a medium glass bowl
Pour boiling water, olive oil, lemon juice and salt over the bulgar, and stir
Let sit for 1 hour
When the bulgar has absorbed the water mixture, add herbs, chopped vegetables, olives, cheese, and mix well
Add chicken or beans if using
Serve at room temperature or refrigerate