I've been searching for a delicious, balanced… and portable breakfast for a long time.
Not so easy to come by, as my go to eggs and spinach or rolled oats and cashew milk don't exactly travel well. I came upon a beautiful recipe in the book "Home Baked" by Yvette Van Boven, last year, and have been happily whipping up a loaf of oatmeal bread every week since.  I've adapted the recipe to come up with, what to me, is the perfect slice of bread! But it's so much more than that. The combination of eggs, seeds and rolled oats provide protein, healthy fats, and long lasting energy. Dried figs and honey add a touch of sweetness.  The best part of this recipe; it's one bowl. No mixer required. I make this bread with what I have on hand, and it is fun to experiment. Unsulfured dried apricots can be substituted for the figs, and chopped pecans or walnuts are delicious too.  If allergies are of concern, skip the sesame seeds and increase the pumpkin and sunflower. You'll soon find your own favorite combination. Try toasting the bread, and top with a couple of teaspoons of almond butter and sliced strawberries, or just grab a piece and head out the door.
Note: This Recipe is wheat-free, (gluten-free if using rolled oats labeled gluten-free) & refined sugar-free
active time: 10 minutes / total time: 1 1/2 hours
Ingredients
6 eggs, beaten
6 tbsp local honey
1/4 cup olive oil, plus extra for greasing the pan
1 cup filtered water
1 tbsp cinnamon
3 3/4 cups rolled oats (not instant or quick cooking)
1/3 cup sunflower seeds (unsalted)
1/2 cup sesame seeds
1/4 cup raw pumpkin seeds
1/2 cup dried figs, chopped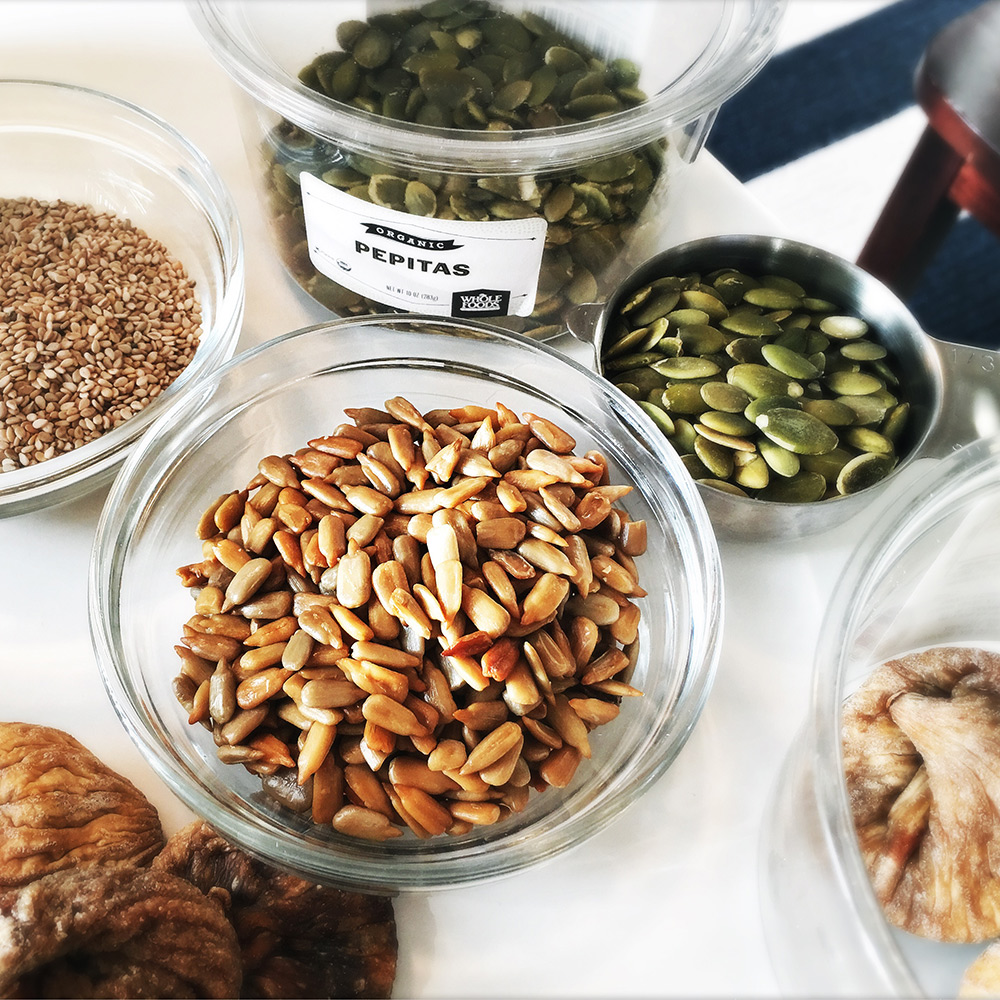 Instructions
In a large mixing bowl, whisk the eggs with the honey, oil, cinnamon and water until foamy.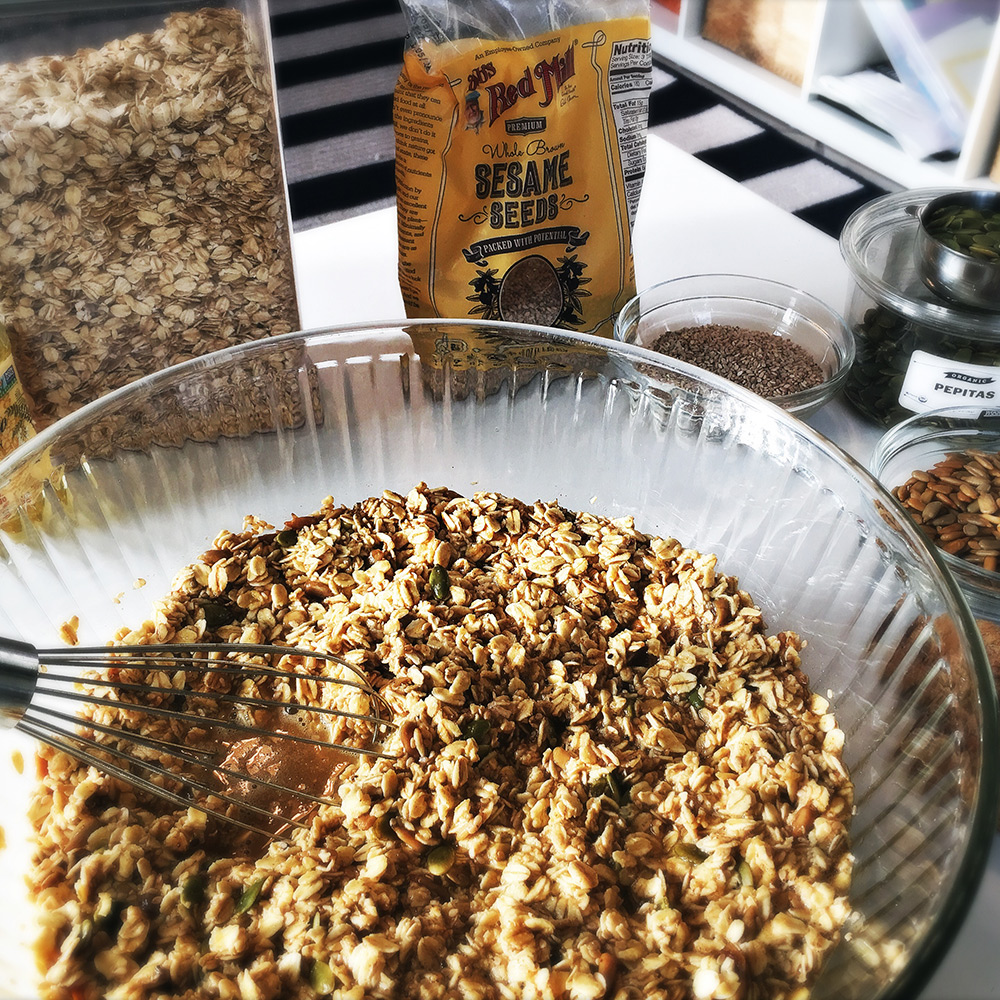 Add the oatmeal, figs, and seeds and mix thoroughly to incorporate evenly. Grease a small 5X7" loaf pan well, getting into all the corners and seams. Pour the batter into the pan and let it rest for at least 30 minutes (up to 1 hour) to allow the oats to fully absorb the liquid and soften.  Meanwhile, preheat the oven to 350° F.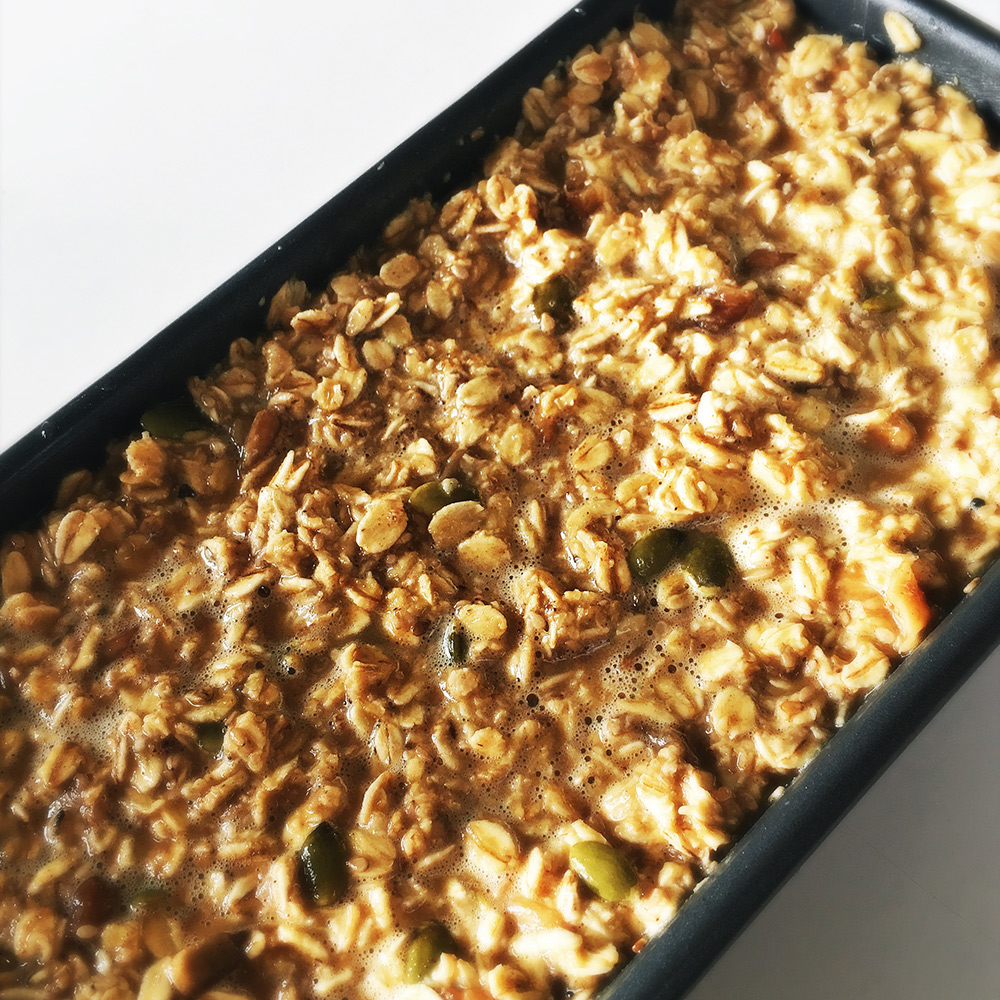 Bake the cake in the lower middle of the oven for 45-50 minutes, until browned on top and firm to the touch.  Let cool on the countertop, and then remove the bread from the pan and allow it to cool further.  Cut into 12-14 slices, depending on the serving size you'd like, and wrap individually.  Will keep on the counter for 3 days and in the fridge for up to 1 week. Slices can be frozen and rewarmed in the toaster oven as needed.