I am inspired by the warm breezes and golden sunlight that fill the long days of summer.
The garden is in full bloom, and thankfully, a quaint new cedar fence has rendered the vegetables off limits to the many rabbits that happily hop around our backyard (don't feel too bad, they are busy snacking on flowers and grass – and this summer there will actually be crops to harvest!)
As has become routine, I strolled in to peruse the garden after my morning run, and noticed the lemon verbena and mint were growing wildly. I took a cue, and carefully pinched off the largest leaves from the stalks, making sure not to stunt the babies sprouting underneath.
With a fistful of green leaves, I head to the kitchen. I find the act of digging in the soil, pruning tomato plants, and tending the garden, cleansing for the mind. The products of this effort, are the incredibly potent super foods that assist the body in it's daily detoxification. Mint promotes digestion, and soothes the stomach in cases of inflammation, while Lemon Verbena is uplifting, and rich in powerful antioxidants. How better to honor nature's medicine, than by steeping a purifying herbal icedtonic, inspired by summer's bounty. Ginger will make a harmonious addition to these vibrant greens, and I happen to have some in the fridge. The Chinese and Indian cultures have been using ginger tonics to treat ailments for thousands of years. Among its numerous health benefits, ginger's effectiveness as a digestive aid, and natural remedy for nausea are widely regarded. Its warming properties, and ability to help cleanse the lymphatic system, exemplify the myriad ways that plants are integral to support our body's optimal functioning.
Whether you pick a bunch of fresh herbs from your local farmer's market or your own backyard, savor the abundance of summer with your own garden therapy.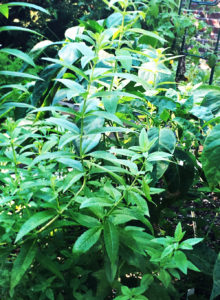 Recipe for Purifying Herbal Iced-Tonic
Handful of lemon verbena leaves
Handful of mint leaves
Knob of fresh ginger, peeled and diced
Bring a teapot of filtered water to a boil
Bruise or roughly chop up the herbs, and place in a medium pot
Pour hot water over herbs, cover, and steep for 10 minutes
Once cooled, pour warm tea through a strainer into a glass pitcher, and refrigerator until chilled